Smriti Karki, CPA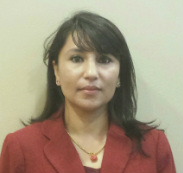 Smriti Karki started her accounting career while working her way through college. She has extensive experience in accounting, tax planning, and business problem solving. Her attention to ever-changing tax regulations has facilitated tax reducing strategies for her clients. With the Internal Revenue Service and state taxing authorities increasing the number of audits, Smriti has the knowledge and experience to properly defend her clients.
Professional Certification and Affiliations
• Certified Public Accountant, State of Texas since 2007
• Member, Texas Society of Certified Public Accountants
• Member, National Society of Accountants
• Member, Lions Everest
Education and Honors:
• Bachelors Degree (Graduated with Highest Distinction)
• MBA
• MPA
• CPA
• Numerous courses in accounting, tax, financial and estate planning sponsored by the Texas Society of Certified Public Accountants, and National Center for Professional Education.
Fields of Specialization:
• Professional service Businesses
• Construction companies
• Small business SEC filings and requirements
• Real Estate
• Restaurants and bars
• Retail Establishments
• Transport
• Not-for-Profit